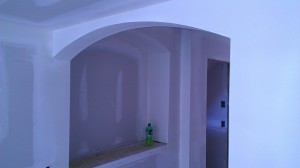 It's well-known in the drywall industry that anybody can call themselves a drywall professional. If you can buy some cheap tools and a pile of sheetrock, you can trick some customers into hiring you.
But an inexperienced worker can't handle jobs that have anything intricate. The arches in the above picture, for example, are easy to do wrong. First, there are technical things you have to get right — the consistency and amount of joint compound, for example — but there's more to it than just that.
Drywall Experts
An experienced worker has an eye for detail. He knows how to position the bead so that it looks good from all angles. He has the years of training it takes to understand how an arch must be positioned to look even and flowing. In short, he knows what he's doing.
When you're hiring a drywall contractor, pay attention to more than just the price. Find out if the workers have the experience and training to handle complex drywall projects. Ask for references and check their websites for pictures. The more you know about the drywall contractor you hire, the better.